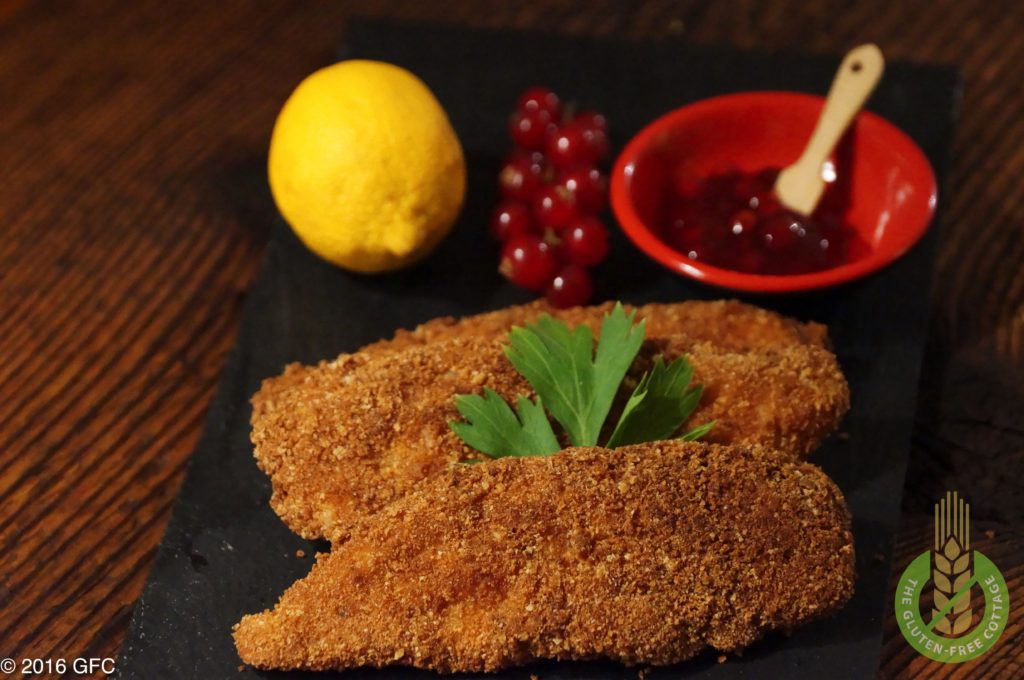 What would the Viennese cuisine be without it's famous Viennese schnitzel (the so-called "Wiener Schnitzel")? Not much, I guess. In Austria, the country I originally come from, everybody just loves it. I guess, I never met someone who did not like it. So, here we are. True to my heart, I try to make Viennese schnitzel once every ten days or so for my family. This  certainly helps making me the favorite mum for my kids. After the question "What do we have for dinner, Mum"? and me replying "Why, we have Viennese schnitzel, honey!", my kids literally start dancing in my kitchen for joy.
After all, we did not have Viennese schnitzel for quite some time after I kind of gently forced my whole family to go gluten-free. I tried, though, to make Viennese schnitzel with breadcrumbs bought in the supermarket. For me, breadcrumbs are the most important part of the Viennese schnitzel. They give all the flavor and crispiness to it. Well, the bought breadcrumbs turned out to be OK, but nothing more. I mean, they were made of rice flour only, and you could see how quickly they would burn in my pan when I fried them. Also, instead of being crispy, the outer texture of the Viennese schnitzel felt a bit rubber-like. And, of course, the taste was a bit dull. All in all, I did not really feel like we would ever have a proper Viennese schnitzel again.
Then I started baking my own gluten-free brown bread – and my family just loved it. As it took them no more than 2 days to finish off a whole loaf or bread, I needed (and still need) to bake new bread every second day! Which is kind of crazy to me. But hey – family comes first, right? No, just kidding. Of course I was extremely pleased that they liked my bread so much. But, quite often, a small part of the bread would not be finished as everyone wanted to have the new, freshly baked bread, of course. So the left-over bread started to pile up. And I had no idea what to do with them. Then I talked to my Mum back in Austria and it was she, actually, who had the brilliant idea that I could try to make bread crumbs from all this old gluten-free bread. I felt a bit stupid that I had not thought of this myself. And it seemed such an easy way to solve this problem. What shall I say? When I tried to make my own gluten-free bread crumbs, it worked out just perfectly!
And this was it, then. This was, how I could restart to make a proper gluten-free version of my beloved Viennese schnitzels. So, never forget to talk to your Mum once in a while. She might offer the most helpful advice…
My Recipe:
Delicious Gluten-Free
Viennese Schnitzel
| Prep time: | Cook time: | Total time: | Yield: |
| --- | --- | --- | --- |
| 20 mins | 15 mins | 45 mins | 4 servings |

INGREDIENTS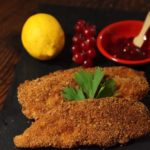 600 g [≈ 1-1/3 lb.] chicken breast (without bones and skin) *
100 g [≈ 3/4 cup]

brown rice flour

3 eggs

100 ml [≈ 1/2 cup] heavy cream
200 g [≈ 1-1/2 cups] gluten-free breadcrumbs (

homemade)

250 g [≈ 1 cup] clarified (unsalted) butter or coconut oil
salt for seasoning
4 tsp. red current jam (or cranberry jam)
1 fresh lemon (2 halves or 4 wedges)
Serve with potato salad on the side.
DIRECTIONS
Cut and flatten chicken breasts into cutlets of about 0.3 cm [≈ 1/8-in.] thickness.

Prepare coatings for dredging: You will need three wide shallow bowls. Put brown rice flour and

gluten-free bread crumbs

in two separate bowls. In the third bowl, beat eggs and sweet cream.

   

Season chicken cutlets with salt and coat them on each side with brown rice flour. Then dip them into the egg mixture. Finally, dredge the cutlets in gluten-free bread crumbs.

Heat

clarified butter

(unsalted) or coconut oil in a big enough frying pan until very hot.

Use a tong with metallic ends to place the cutlets into the pan. 

Let the first batch of cutlets fry for about 2 minutes at one side, then turn and let fry for another minute.

Take the cutlets out of the pan and place them onto a plate covered with paper towels (put also some on top of the cutlets), so that the excess fat can be absorbed and the cutlets stay crunchy.

Repeat with the rest of the cutlets.

Serve with red currant (or cranberry) jam and lemon halves (or lemon wedges) that can be squeezed over the schnitzels. Prepare a potato salad as a side dish. 

Enjoy your mouthwatering gluten-free Viennese schnitzels!

Tips & Tricks 
In Austria, the original version of the Viennese schnitzels is made with veal. Often, they would also use pork. But my family, and especially my kids, just love their chicken version of Viennese schnitzels.
Also, we Austrians love to dip each Viennese schnitzel bite in a little bit of red currant (or cranberry) jam as this creates a very nice (sweet) contrast to the sour taste of the lemon juice.

Often, potato salad is used as a side dish for Viennese schnitzels. We love to enrich our potato salad with slices of fresh red onions and the famous Austrian pumpkin seed oil. The pumpkin seed oil is not only very delicious because of its nutty taste but also adds a very nice dark green colour to the salad.
NOTES:
1 pound (lb.) = 0.454 kilograms (kg) = 454 grams (g)
1 cup [US] = 235 ml = 16 tablespoons (TBS)
tsp. = teaspoon = 5 ml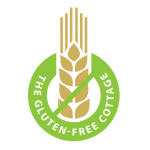 The Gluten-Free Cottage (GFC)
© 2017 GLUTENFREECOTTAGE.COM ALL RIGHTS RESERVED