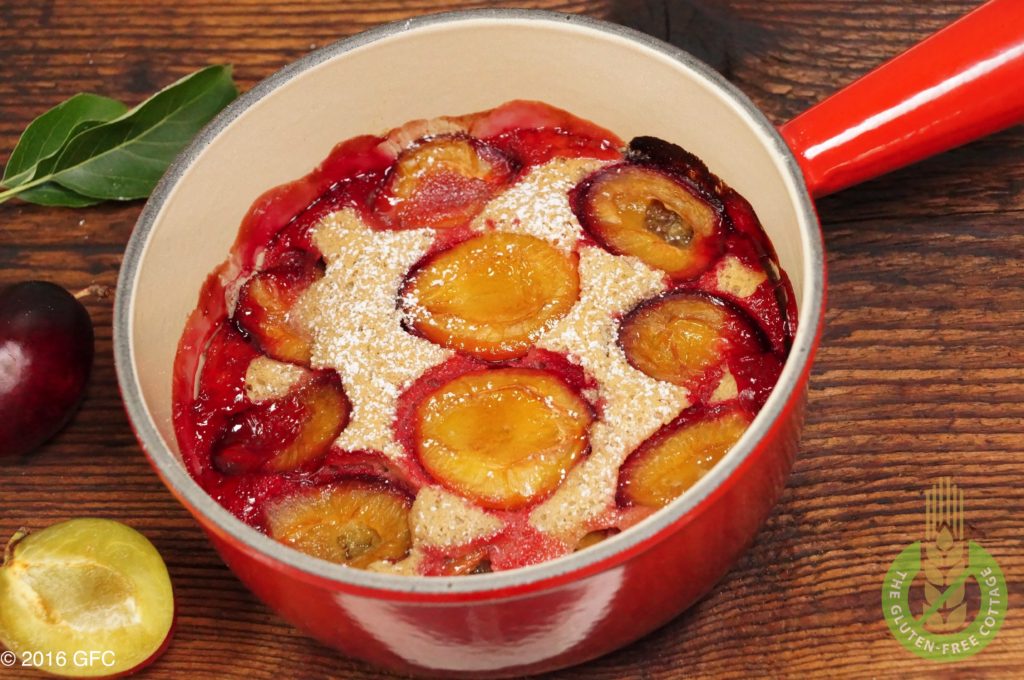 Do you remember the ripe, sweet smell of plums in summer time? When I was a kid, I grew up at a small farm. We had plenty of fruit trees and I just loved to pluck fresh plums from our old, gnarled plum trees. The taste of the sun-dried plums was just amazing. There was this full, sweet taste with a slightly sour element to these plums which still reminds me of the warm and sun-filled summers of my childhood.
My mum used to bake a cake every Saturday afternoon for my siblings and me. Often, this would be a plum sheet cake. And we just loved it. The sweet and at the same time sour taste of the plums harmonized perfectly with the sweetness of the cake. Eating the still warm plum cake outdoors, in the hot summer sun, with whipped cream and and a glass of cold milk, was a treat for us like no other.
Today, with my whole family gone gluten-free, I want to provide the same feeling of endless summer to my kids. Enjoy your very juicy gluten-free plum cake!
My Recipe:
Juicy Gluten-Free Plum Cake
| Prep time: | Bake time: | Total time: | Yield: |
| --- | --- | --- | --- |
| 25 mins | 35 mins | 1 hour | 10 servings |

INGREDIENTS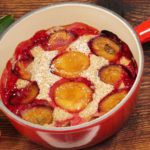 200 g [ ≈ 1 cup or 2 sticks minus 2 TBS.] unsalted butter, softened
100 g [ ≈ 1/2 cup plus 1 TBS.] granulated sugar
4 medium-sized eggs (egg white, yolk)
2 tsp. granulated vanilla sugar
150 ml [≈ 2/3 cup] milk
1 TBS. apple vinegar
100 g [ ≈ 1/2 cup plus 1-1/2 TBS] sorghum flour
100 g [ ≈ 1 cup] corn flour
50 g [ ≈ 1/2 cup] corn starch
50 g [ ≈ 1/2 cups] tapioca starch
2 tsp. gluten-free baking powder
1 kg [≈ 2 lbs. 3 oz.] fresh plums, not too ripe

Dash salt
DIRECTIONS
Preheat oven to 200 °C (390 °F) top and bottom heat.

Make dough: Separate eggs into egg whites and yolks.

Cut the butter into small pieces and put it in a large bowl of an electric mixer. Add granulated and vanilla sugar and yolks. Mix it very well until it gets creamy.

Mix sorghum flour, corn flour, corn starch and tapioca starch in a separate medium-sized bowl. Add baking powder and mix thoroughly.

Prepare plums: Cut fresh plums in halves and remove the kernels.

Grease and flour a 35 cm x 30 cm x 5 cm (≈ 14-in. x 12-in. x 2-in.) baking pan.

Beat egg whites with another electric mixer (or a whisk) in a separate small bowl and add a dash of salt at the end so that it gets really stiff.

Put first the beaten egg whites and then the flour-starch-mix on top of butter-sugar-mix and mix very carefully with a rubber spatula (so that the air does not escape from the beaten egg whites).

Pour the batter into the baking pan and spread it evenly so that the dough has a height of approx. 2 cm (3/4-in.).

Spread the plum halves evenly over the dough, upside down (otherwise the liquid from the plums will soak the dough).

Bake: Put in the oven for 35 to 40 minutes.

Let cool and serve with powdered sugar and optionally whipped cream.

Enjoy your very juicy gluten-free plum cake!

NOTES:
1 cup [US] = 235 ml = 16 tablespoons (TBS)
TBS = tablespoon = 15 ml
tsp. = teaspoon = 5 ml
1 stick of butter = 1/2 cup = 113 g (= 4 oz. = 8 TBS. = 24 tsp.)
1 pound (lb.) = 0.454 kilograms (kg) = 454 grams (g)
1 ounce (oz.) = approx. 28 grams (g)
1 inch (in or ") = 2.54 centimeters (cm)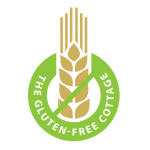 The Gluten-Free Cottage (GFC)
© 2017 GLUTENFREECOTTAGE.COM ALL RIGHTS RESERVED