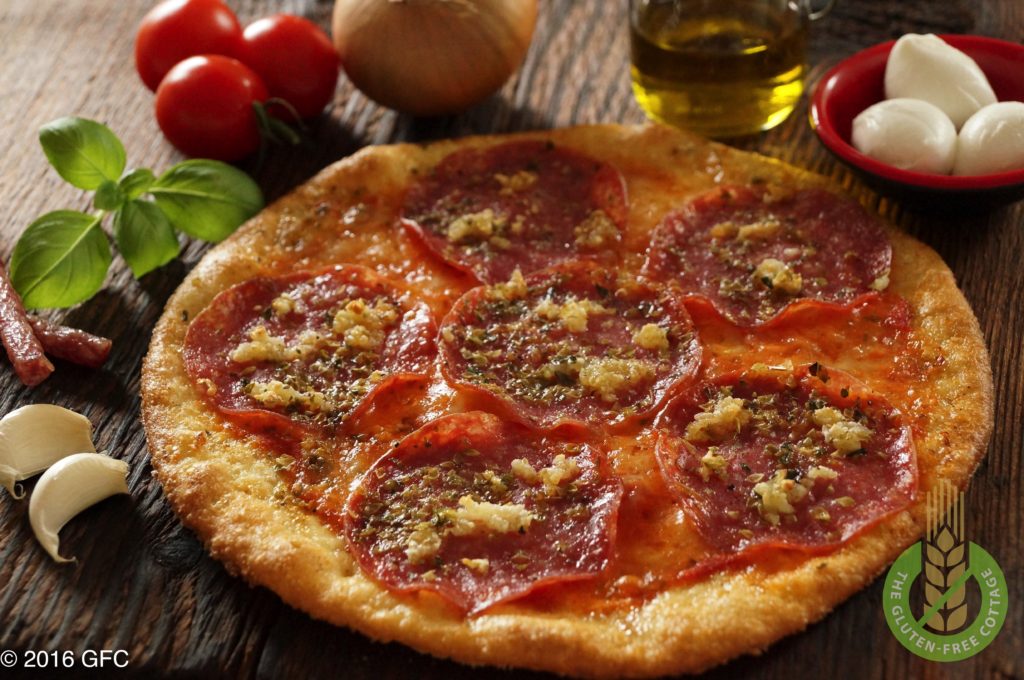 How long did it take you to make a nice crispy pizza at home after going gluten-free? As for me, it took me quite a while. First, the biggest challenge was to make a dough that does not break apart when rolled-out. Then, at another time, I accidently used oat flour instead of pearl millet flour, and the whole raw pizza dough just "ran away" from me.  I obviously had to learn it the hard way that oat flour can not absorb the same amount of liquid like pearl millet flour. 
When I finally succeeded at creating a nice raw pizza dough, I started to work on getting a nice baked pizza crust, i.e. one that is not too dry but crunchy at the margin and at the same time flexible at the inner circle where it is covered with the toppings.
Most of the times my pizza crust was somehow to hard. So I asked at a very nice pizza place in Vienna what I could do about that and they told me that adding enough oil to the dough might do the trick. This helped – but still, the gluten-free pizza needed improvement in terms of flexibility when baked. So, finally, I ended up decreasing the overall amount of pizza toppings (especially the tomato sauce) and the pizza turned out near perfect.
The only thing I still have to figure out is how to handle gluten-free raw pizza dough in order to be able to re-use it at a later point in time.  I tried to store the raw pizza-dough in the fridge and also to freeze it in my freezer, but unfortunately the defrosted raw pizza dough would not rise properly when baked in the oven. So, if you have any suggestions about that, I would love to hear them!
My Recipe:
Crunchy Gluten-Free Pepperoni Pizza
| Prep time: | Rise time: | Bake time: | Total time: | Yield: |
| --- | --- | --- | --- | --- |
| 15 mins | 45 mins | 15 mins (per pizza) | 1 hour 15 mins | 4 pizza |
INGREDIENTS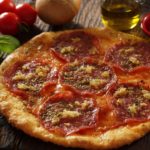 GLUTEN-FREE DOUGH (diameter of 30 cm/ ≈ 12" per pizza):
Dry Ingredients
120 g 

[≈ 1-1/4 cups]

 pearl millet flour

120 g [≈ 1 cup plus 2 TBS.] brown rice flour

100 g

[≈ 1 cup]

corn starch

50 g

[≈ 1/2 cup]

tapioca starch

2 TBS. psyllium husk powder

2 tsp. locust bean gum powder 

(or xanthan gum powder)

2 tsp. salt



Liquid Ingredients
300 ml

[≈1-1/4 cups]

warm water

2 TBS. olive oil

1 TBS. apple cider vinegar

1 medium egg
Yeast Ingredients
2 tsp. active dry yeast

1 tsp. granulated white sugar

100 ml [≈ 1/2 cup] warm water (36°C-38°C/ 97°F-100°F)

TOPPING:
1 jar ready-made tomato sauce (or home-made tomato sauce*)
800 g fresh mozzarella 45 %  (200 g per pizza)
200 g gluten-free pepperoni sausage, thinly sliced (50 g per pizza)
8 minced garlic cloves (2 cloves per pizza)
4 tsp. dried oregano (1 tsp. per pizza)
4 TBS. olive oil (1 TBS. per pizza)
2 tsp. freshly ground coarse sea salt (1/2 tsp. per pizza)
1/2 tsp. freshly ground coarse pepper (1/8 tsp. per pizza)
You will also need a round, enameled cast-iron pizza pan and very heat-resistant oven gloves.
DIRECTIONS
Make dough:

Put all "dry ingredients" in a large bowl and mix thoroughly (best use a kitchen machine).

Pour all "liquid ingredients" in a bowl and mix it.

Mix all "yeast ingredients" in a small cup and let rest for a couple of minutes until small bubbles develop.

Combine all ingredients and mix until the dough shows a sticky and not too liquid consistency.

First rise: Let the dough rest in the bowl for about 30 minutes at a warm enough place

 

(36°C-38°C/ 97°F-100°F) until its volume has approx. doubled (best put bowl in a warm water bath).

Preheat oven to 270 °C [≈ 520 °F] top and bottom heat and place an empty enameled cast-iron pizza pan (with a minimum diameter of 30 cm/ ≈ 12") into the oven.

When the dough has approx. doubled its quantity, take it out of the bowl and place it on a surface covered with gluten-free flour.

Knead the dough by hand for a couple of minutes and then divide it into 4 balls.

Roll out each ball into a thin dough circle with a diameter of approx. 30 cm [≈ 12"] and a thickness of approx. 2 mm [≈ 1/16"]. Place first (empty) pizza on a cake lifter covered with gluten-free flour (needed to help the the raw pizza slide on the hot cast-iron pizza pan).

Evenly spread first the tomato sauce and then the mozzarella slices on the dough circles. Leave a border of about 2 to 3 cm [≈ 1 inch] uncovered.

Now spread pepperoni sausage, crushed garlic cloves and dried oregano over the pizza round.

Trickle olive oil over the pizza rounds and also generously cover the border of the pizza circle with olive oil.

Season with freshly ground salt and black pepper.

Second rise: Let pizza rounds rest for another 15 minutes so that the dough can rise again.

Take the very hot (!) cast-iron pizza pan out of the oven (use very heat-resistant oven gloves!) and let the raw pizza round slide on it.

Bake: Put pizza at top part of the oven and let bake for about 13 to 15 minutes. 

Take out when you see the pizza crust turn brownish and serve immediately.

Enjoy your very crunchy gluten-free pepperoni pizza!
NOTES:
cup = cup [US] = 235 ml = 16 tablespoons (TBS.)
TBS. = tablespoon = 15 ml
tsp. = teaspoon = 5 ml
ml = milliliter
g = gram
kg = 1000 grams = 2.2 pounds = 35 oz.
pound = 16 ounces (oz.)
oz. = 28 g
cm = centimeter
mm = millimeter
" = inches (1 inch = 2,54 cm)
*) TOMATO SAUCE
2 TBS. olive oil

1 medium-sized onion

,

finely chopped

2 garlic cloves

, crushed

1 tsp. granulated white sugar

2 TBS. tomato paste

(concentrate)

1 kg

[≈ 8 medium-sized]

fresh ripe plum tomatos, chopped

1 TBS. dried oregano

1/8 tsp. black pepper

, freshly ground

1 tsp. salt
For the tomato sauce heat the olive oil in a medium-sized pan, add the finely chopped onion, the crushed garlic cloves and the sugar (will caramelize and adds a nice taste) and sauté over medium heat for a couple of minutes until the colour of the onions turns slightly brown (don't forget to stir every now and then with a wooden spoon).

Stir in the tomato paste and cook for another minute.

Now add the chopped tomatoes and the dried oregano and let it simmer gently and uncovered for about 30 minutes.

Season with salt and black pepper.

Set aside and let it cool.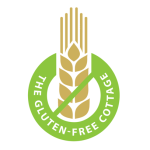 The Gluten-Free Cottage (GFC)
© 2017 GLUTENFREECOTTAGE.COM ALL RIGHTS RESERVED