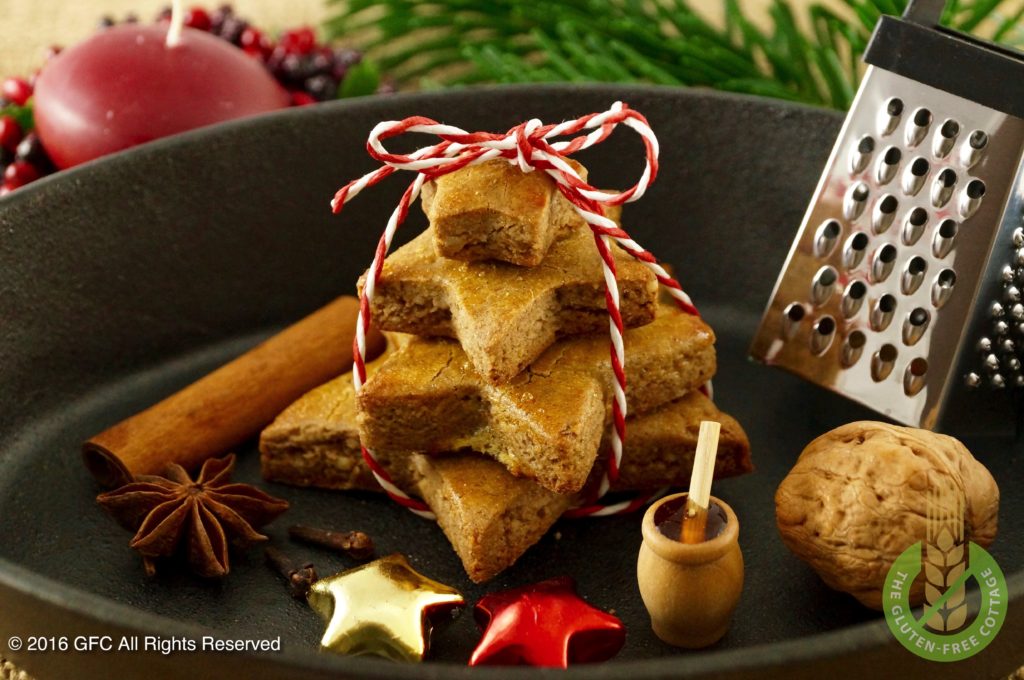 With only about 3 weeks left to the Christmas holidays, I urgently needed to ask myself which kind of gluten-free cookies I might be able to make that not only tasted very good but also turned out being not too crumbly. After thinking long and hard and skimming through some of my old baking books and the internet I finally decided I should start with developing a recipe for gluten-free gingerbread cookies.
This was not purely a family matter any more the moment my daughter decided to have a sleepover birthday party at home and wanted to do some Christmas cookies with her friends. Friends, who were all used to having delicious "normal" Christmas cookies.  Well, I definitely needed to make an effort to not disappoint them.
The first step was, of course, to go shopping. Luckily, the supermarket closest to my house has a big gluten-free section. The rest of the ingredients I usually get at a health food store or online.
My first step is to heat the honey together with brown sugar and butter. The heat helps the brown sugar to dissolve. It is important, though, that the temperature is not too high as otherwise the dough gets quite sticky.
Then, after letting the  honey mixture cool out, I add a beaten egg, a little bit of apple vinegar and a freshly grated lemon peel.
Now I quickly mix all the dry ingredients in a big enough bowl before adding the cooled off honey mixture.
After adding the honey mixture to the dry ingredients, the dough becomes quite heavy and sticky.  This is not a problem as the psyllium seed husk powder is taking some of the moisture out of the dough during mixing.
Now I scrape the dough out of the bowl and place it on a floured surface. I knead it manually and if I have the feeling, the dough is too sticky, I add some more teff flour. In the end, I try to get a dough that can be nicely rolled out. Before rolling out, I put some teff flour on top of the dough and also beneath it as otherwise it gets too sticky on both sides. It is also a good idea to put a little bit of teff flour directly on the rolling pin. The rolled-out dough should show a thickness of approximately 8 mm (≈ 1/3 in.).
It is important that the dough is evenly rolled out as otherwise some cookies might burn in the oven while others are not fully baked yet. Now cut out the cookies (best with a cookie cutter) and place them on a baking tray covered with parchment paper.
Before baking them brush their surface with a so-called egg wash (you simply need to beat one egg) so that the cookies get a nice shiny colour when baked. You may also place some nut or almond halves on top of the cookies before baking if you prefer a more "natural" decoration.
Now place the cookies in the oven and bake them for about 12 to 15 minutes at a temperature of 200 °C (≈ 390 °F).
The cookies are ready when the edges are slightly browner than before. This can be a bit tricky as teff flour itself has quite dark a color. So you really need to be careful here.
When they are finished, take them out of the oven and let them cool off.  Now comes the most interesting part for the kids: decorating! I usually prepare an egg white glaze with three different colors: white, pink and blue. My kids apply the glaze with a pastry brush on top of the gingerbread cookies and "glue" all the colored sugar sprinkles, marshmallows, chocolate chips and so on they can find in my kitchen on their cookies. Enjoy your very tasty gluten-free gingerbread cookies!
My Recipe:
Gluten-Free Gingerbread Cookies
| Prep time: | Bake time: | Total time: | Yield: |
| --- | --- | --- | --- |
|   20 mins |     15 mins (per batch) |  35 mins |    30 cookies |

INGREDIENTS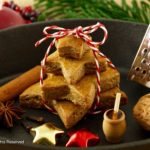 GLUTEN-FREE GINGERBREAD DOUGH:
Honey-Mixture
150 g [≈  1/2 cup] honey, liquid
80 g [≈  1/3 cup plus 1 TBS] brown sugar
50 g [≈  4 TBS] unsalted butter
1 egg, beaten
1 TBS apple vinegar
1 organic lemon (freshly grated lemon peel)
Dry Ingredients
Egg Wash
EGG WHITE GLAZE:
1 egg white
200 g [≈ 1-1/4 cups] confectioners' sugar
2-3 tsp. lemon juice, freshly squeezed
3-5 drops food coloring, upon liking

DECORATION
gluten-free colored sprinkles

,

mini marshmallows, chocolate chips, nuts, almonds, and the like
DIRECTIONS
Preheat oven to 200 °C (≈ 390 °F) and cover baking sheets with parchment paper.

Make dough: Prepare "honey-mixture": Mix honey, brown sugar and butter and heat slowly until medium-warm. Whisk until brown sugar dissolves. Let cool. Then add egg and vinegar and stir again.

Place all "dry ingredients" in a big enough bowl and mix thoroughly.

Add "honey-mixture" to "dry ingredients" and mix. 

Place dough on floured surface and knead by hand. Add flour if necessary until dough is firm enough to cut out cookies.

Cut out cookies: Roll out dough in a rectangle with approx. 8 mm (≈ 1/3 in.) thickness and cut into shapes with cookie cutters.

Cover baking sheet with parchment paper and place cookies on it.

Make egg wash: Beat egg and and brush top of cookies with it. Decorate some of the cookies with nuts and almonds halves, if you like.
Bake cookies in the oven for about 12 to 15 minutes. Take the still soft cookies out and let cool.
Prepare glaze:

 

In a small bowl, beat one egg white, continue mixing and scoop in the confectioners' sugar one spoon at a time until required consistency is reached. Add a few teaspoons of freshly squeezed lemon juice upon taste and continue mixing. If you like, add a few drops of food coloring. Use a pastry brush and spread glaze over cookies. Decorate with sugar sprinkles, mini marshmallows or the like on top and let dry overnight.
Enjoy your very tasty gluten-free gingerbread cookies!
Tips & Tricks

Gingerbread cookies are best stored in a tin can and put small pieces of apple or orange peel in it. This helps the cookies become softer and more tasty.

Instead of glazing the cookies with egg white you can also prepare a sugar glaze. Stir 100 g (≈ 1/2 cup) of granulated sugar and 2 tablespoons of tap water and heat. Skim excess sugar off the surface but do not stir during the heating process. The sugar glaze is ready when a small wire sling you dip into the sugar glaze is covered with sugar coating and you can make a (sugar) bubble out of it when blown through.
NOTES:
g = gram
ml = milliliter
TBS = tablespoon = 15 ml
tsp. = teaspoon = 5 ml
1 cup = 1 cup [US] = 235 ml = 16 tablespoons (TBS)
1 stick of butter = 1/2 cup = 113 g (= 4 oz. = 8 TBS. = 24 tsp.)
1 inch (in or ") = 2.54 centimeters (cm) = 25.4 millimeters (mm)
1 liter = 1,000 ml = 1.0567  US quarts (liquid)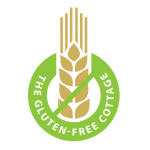 The Gluten-Free Cottage (GFC)
© 2016 GLUTENFREECOTTAGE.COM ALL RIGHTS RESERVED