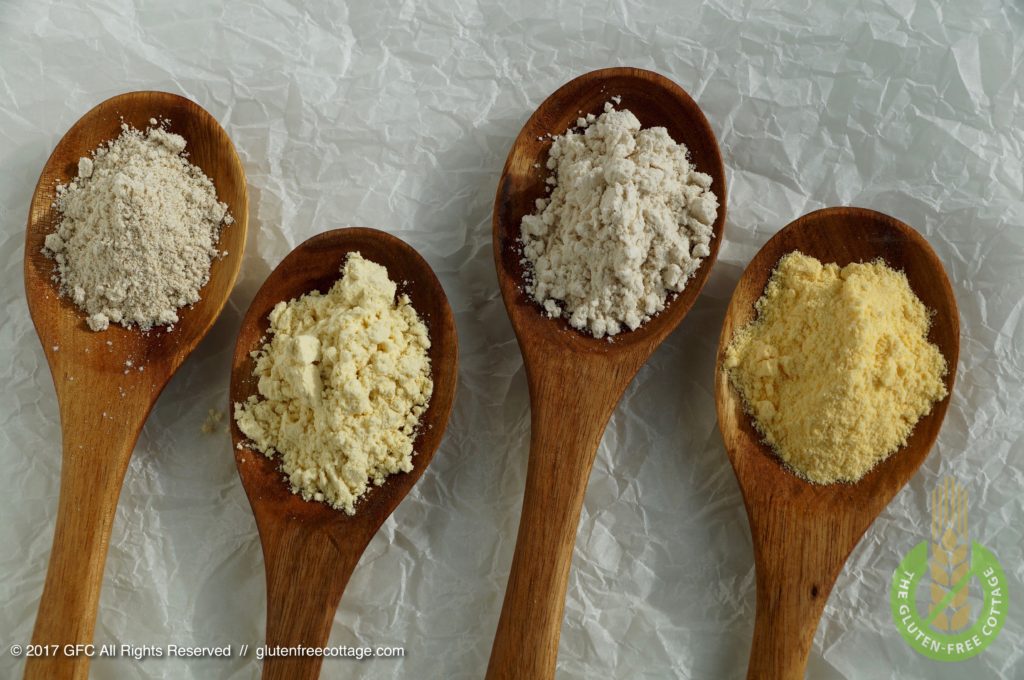 When talking about flours for gluten-free baking we do not only talk about gluten-free whole grain flours but also about legume flours (beans, peas), tuber vegetable flours (sweet potatoes) and dry fruit flours (nuts, almonds). Also, starches and other binding agents are needed for gluten-free baking.
Whole grain flours are obtained by grinding grains and seeds. "Cereals" (or "cereal grains") refer to the edible parts of plants belonging to the grass family and may contain gluten. For example wheat, rice, wild rice, spelt wheat, oats, rye, millet, sorghum, teff, corn, barley, kamut and triticale are counted among cereal grains.
In contrast, "pseudocereals" are seeds of non-grass plants being similar to the grass family (broad-leafed plants). Pseudocereals are tasty, nutritious and gluten-free. Examples for pseudocereals are quinoa, amaranth, buckwheat and chia seeds.
Traditionally, flours used for baking contain gluten, a protein found in cereal grains like for example wheat, rye and barley. Gluten adds elasticity to doughs, retains moisture, holds shape and hardens doughs in high heat (agglutination).
With an increasing number of people not being able to tolerate gluten-containing grains any more, gluten-free grains become more and more important. But flours made from gluten-free grains lack the so-called "bakability", i.e. they can form no sticky dough and also can not develop a classic crumb during the baking proces. Therefore, gluten-free starches and other binding agents as replacements for gluten are needed for a successful gluten-free baking process.
In the following article I will show which kinds of gluten-free flours can be used for baking, what they taste like, for which kinds of baked goods they are best used for, what their special baking properties are and if there is something you need to be aware of when using them for baking. Gluten-free starches and necessary binding agents will be dealt with in other articles.
Gluten-Free Flours for Baking (in an Alphabetic Order within their Subcategories):
1) Gluten-Free Whole Grain Flours
1) Gluten-Free Whole Grain Flours
Amaranth Flour
MADE FROM: (very small) hulled seeds of the amaranth plant (amaranth family) which is a pseudocereal;

originally from South America;

TASTE: quite strong and unusual; nutty, "grassy and earthy" taste; slightly peppery flavor; quite a strong aftertaste;

USED FOR BAKING: best for savory baked goods like bread, pizza, crêpes and quiches;

SPECIAL BAKING PROPERTIES: quite sticky texture; use instead of rice flour in mix with other gluten-free flours; not more than 10 % of total flour; add a little bit more water or other liquids to the dough so that the finished baked goods do not turn out too dry;

BEWARE OF: amaranth flour has a lot of oxalic acid which may add to kidney stones ; => back
Brown Rice Flour (Whole Rice Flour)
MADE FROM: whole (non-hulled) rice which still has germ and bran;

TASTE: has a stronger and more nutty flavor compared to white rice flour; "wholemeal" aroma;

USED FOR BAKING: savory and sweet baked goods such as bread, cookies and cakes;

SPECIAL BAKING PROPERTIES: sticky consistency; mix with other gluten-free flours; not more than 50 % of total flour; gives a more "wholemeal" texture to baked goods (compared to white rice flour); => back
Buckwheat Flour
MADE FROM: hulled seeds from buckwheat plant (buckwheat family); related to sorrel, knotweed, and rhubarb; has nothing to do with wheat!; originally from Asia (China and Japan);

TASTE: quite strong, characteristic nutty and slightly bitter taste; hearty and a little "earthy" flavor;

USED FOR BAKING: sweet and savory baked goods; for example: breads, muffins, waffels, cakes and pancakes; because of its consistency not so good for cookies and shortcrust pastry;

SPECIAL BAKING PROPERTIES: good baking flour; use alone or mix with other gluten-free flours; because of it's strong taste it should be mixed ideally with rice flour or cornstarch; buckwheat is one of the stronger mucus-forming grains and using too much buckwheat flour makes the dough heavy, moist and sticky;

BEWARE OF: buckwheat seeds should be hulled before grinding as they may cause allergies otherwise (e.g. increased light sensitivity and subsequent rashes); => back
Cornmeal (Maize Flour)
MADE FROM: partly (or totally) hulled sweetcorn kernels which were dried, soaked in lime water and washed (also known as "polenta"); if cornmeal is stone-ground than flour has a coarser grind and sweetcorn kernels still have parts of bran and oil-containing germ (as opposed to grinding between steel rollers); maize belongs to grain plants (cereal grain); originally cultivated in Mexico;

TASTE: pleasant, slightly sweet taste;

USED FOR BAKING: sweet and savory baked goods such as pancakes, muffins, corn bread, corn tortillas, cakes and pie crusts;

SPECIAL BAKING PROPERTIES: very good binding agent; adds moisture and texture to baked goods; slightly gritty texture of baked products; mix with other gluten-free flours as cornmeal flour alone usually does not rise very good; preferably use "Masa Harina", the Mexican corn flour made from dried white maize grains; => back
Oat Flour (Certified Gluten-Free!)
MADE FROM: whole grain oat groats that still contain the nutritious germ, bran and endosperm; belongs to the grass family; oats are one of the most popular cereal grains; worldwide cultivation;

TASTE: mild nutty taste;

USED FOR BAKING: sweet and savory baked goods, such as hearty breads, muffins, pancakes and cookies;

SPECIAL BAKING PROPERTIES: very good baking qualities;

BEWARE OF: only use finely ground and certified "gluten-free" whole grain oat flour for baking (oat flour itself is gluten-free but it may be contaminated with gluten in the milling process); => back
Pearl Millet Flour
MADE FROM: hulled millet grains from the pearl millet plant, a member of the millet family; millet plants belong to small-seeded grasses and are therefore cereal grains; all millet flours are gluten-free; they originate from Africa and Asia;

TASTE: mild, aromatic and slightly sweet flavor; nutty taste;

USED FOR BAKING: sweet and savory baked goods, such as bread, muffins, and butter and foam cakes; very finely ground millet flour is also used for pie crusts;

SPECIAL BAKING PROPERTIES: use together with other gluten-free flours; millet flour does hardly combine with other ingredients and keeps its gritty structure; it needs more water than other doughs and has a high absorption capacity of liquids; millet flour absorbs liquids during the baking process only and therefore enhances the raising of the dough;

BEWARE OF: millet grains need to be hulled, i.e. their outermost coat needs to be removed before being ground; => back
Quinoa Flour
MADE FROM: hulled seeds of the quinoa plant which is related to spinach and chard; quinoa is a pseudo cereal and belongs to the amaranth family; cultivated in South America (Peru and Bolivia);

TASTE: delicious nutty flavor, slightly bitter;

USED FOR BAKING: especially for savory baked goods like bread, pizza and hearty pastries; can also be used for cakes;

SPECIAL BAKING PROPERTIES: mix with other gluten-free flours; adds texture and moisture to baked goods; has a pleasant but sticky consistency (use instead of rice flour);

BEWARE OF: seeds need to be hulled before use as they have a naturally coating of bitter-tasting saponins; => back
Sorghum Flour (Milo or Jowar Flour)
MADE FROM: grains of sorghum plant, a kind of millet that belongs to the grass family; sorghum

grain is a gluten-free cereal grain (cereal crop) and a staple food in Africa and India; also cultivated in South Europe, South Asia and Central America;

TASTE: mild, nutty and slightly sweet flavor;

USED FOR BAKING: for all kinds of sweet and savory baked goods such as bread, cakes, muffins and cookies;

SPECIAL BAKING PROPERTIES: mix with other gluten-free flours; => back
Teff Flour
MADE FROM: very small seeds of

the teff plant, a kind of millet that belongs to the grass family; teff is a gluten-free cereal grain and is originally from Ethiopia and Eritrea;

TASTE: mild, nutty aroma and a slightly sweet taste that might remind you of chocolate;

USED FOR BAKING: sweet and savory baked goods, such as bread and waffles;

SPECIAL BAKING PROPERTIES: as teff flour alone does not rise very good it is best to mix it with other gluten-free flours (unless you make flat breads or crackers); good binding agent with a slightly jellylike consistency; adds moisture, texture, and flavor to baked goods; is a fiber-and-protein-rich flour and makes bread color darker; => back
White Rice Flour
MADE FROM:

(very finely milled) white rice grains that had its husk, bran and germ removed; mainly broken rice; is a cereal grain that belongs to the grass family; mainly cultivated in Asia;

TASTE: neutral, mild taste

USED FOR BAKING: sweet and savory baked goods like white bread, cakes, muffins, cookies, pastries and pancakes;

SPECIAL BAKING PROPERTIES: good thickening agent; mix with other gluten-free flours; up to one third of total flour; baked goods may have a more distinctive "rice flavor" if more white rice flour is added; => back
Other Gluten-Free Whole Grain Flours
Brown Millet Flour:

ground brown millet seeds; strong "earthy" and nutty taste; for savory baked goods like hearty breads and wholefood cakes; mix with other flours; up to 20 % of total flour;
Canihua Flour: ground canihua grains; from South America; nutty flavor; for savory baked goods like hearty breads and pastry; use in flour mixes; up to 20% of total flour; seed coating does not contain bitter-tasting saponins;
Flaxseed Flour: ground flax seeds without oil content; pleasant nutty taste; for savory baked goods like bread and pastries, but also pancakes, muffins and cookies;

gives a good texture to baked goods; up to 10 % of total flour; very good swelling properties; add more liquids if necessary;
Hempseed Flour: ground hulled hemp seeds without oil content; pleasant nutty, hearty taste; for savory baked goods like hearty breads, pastries, but also cakes; mix with other gluten-free flours;

up to 10% of total flour; does not rise well because of very low starch portion; add more liquids if necessary;
Pumpkin Seed Flour: ground pumpkin seeds without oil content; pleasant nutty, slightly "salty" flavor; for sweet and savory baked goods such as bread, pastries and cakes; mix with other gluten-free flours; up to 30% of total flour; add more liquids if necessary; => back
Back to Gluten-Free Whole Grain Flours
2) Tuber Vegetable Flours
Sweet Potato Flour (Kumara, Batata, Camote)
MADE FROM: peeled sweet potatoes are tuber vegetables; belong to family of bindweed (also morning glory family);

TASTE: aromatic and slightly sweet taste;

USED FOR BAKING: sweet and hearty baked goods (bread, cookies, muffins, crepes, cakes, and so on);

SPECIAL BAKING PROPERTIES: good capability to retain moisture; baked goods therefore do not dry out that quickly; => back
Other Tuber Vegetable Flours
Manioc Flour (Cassava): cleaned, dried and roasted tubers of manioc plant (cassava); belongs to euphorbia (or spurge) family; originally from South America; neutral, slightly sweet taste; sweet and savory baked goods like bread;
Tiger Nut Flour (Earth Almond, Chufa): dried and roasted tubers (earth almonds or tiger nuts) from the plant tiger nutsedge; are small vegetable tubers and not nuts; belongs to the sedge family; originally from North Africa, cultivated worldwide; tender, sweet and nutty flavor (like hazelnuts or almonds); mostly used for sweet bakery products like cakes, muffins, brownies and cookies; use in gluten-free flour mixes (e.g. with maize flour); high in natural sugars so you may be able to reduce sugar in recipes; good substitute for people with nut allergies; => back
Back to Tuber Vegetable Flours
3) Legume Flours (Beans and Peas)
Bean Flour
MADE FROM:

mix of broad beans, chickpeas and/or soy beans; sometimes also with lentils and navy, pinto and read beans; belong to legume family;
TASTE:

earthy "beany" flavor;

USED FOR BAKING: hearty baked goods like bread, pizza and spicy cakes;

SPECIAL BAKING PROPERTIES: mix with other gluten-free flours; makes baked goods lighter and increases elasticity; using too much bean flour in a flour mix may generate a strong after-taste and cause bloating; => back
Chickpea Flour (Garbanzo, Gram or Besan Flour)
MADE FROM: dried (and sometimes roasted) chickpeas; belongs to legume family; cultivated worldwide;

TASTE: dinstinctive "beany" and "floury" flavor; slightly nutty taste;

USED FOR BAKING: hearty baked goods such as bread, pizza and crepes;

SPECIAL BAKING PROPERTIES: mix with other gluten-free flours; very good thickening agent; can be used instead of eggs; => back
Soy Flour
MADE FROM: roasted hulled soybeans (without coating); belongs to legume family; native to East Asia; cultivated in U.S., Brazil and Argentina;

TASTE: quite strong "beany" flavor and characteristic after-taste; nutty aroma;

USED FOR BAKING:

hearty baked goods like bread, cakes and pancakes;

SPECIAL BAKING PROPERTIES: best used in combination with other gluten-free flours (especially tapioca flour and/or rice flour); good thickening agent and flavor enhancer; good replacement for gluten; can also be used instead of eggs;

BEWARE OF: people who are allergic to birch pollen may also show an allergic reaction to soy; rich in phytoestrogens (may cause breast cancer); => back
Other Legume Flours
Sweet Lupin Flour: sweet hulled lupin beans (sweet lupini beans); belong to legumes; cultivated in Australia, Germany and Poland; nutty taste; for savory baked goods such as bread, yeast-based pastries, pancakes and waffles; mix with other gluten-free flours; up to 15 % of total flour; makes baked goods fluffy; minimal starch content; not to be confused with common (bitter) lupin beans which may not be consumed when raw;
Urd Bean Flour (Vigna Mungo, Black Gram, Black Lentil or Mungo Bean): whole urd beans or dehulled and defatted urd beans (their interior being white); originally cultivated in India; for hearty baked goods like flat bread; good thickening agent; may cause flatulence; => back
4) Dry Fruit Flours (Nuts, Almonds)
Almond Flour/Meal
MADE FROM: unshelled and shelled seeds of almond tree; not a true nut; belongs to the rose family; cultivated in the Middle East, India and North Africa;

TASTE: pleasant, nutty taste;

USED FOR BAKING: sweet baked goods such as cakes, muffins and brownies;

SPECIAL BAKING PROPERTIES: very good baking qualities; mix almond flour or meal with other gluten-free flours; almond flour makes baked goods drier and gives them a finer and denser texture whereas almond meal makes them moister and gives them a coarser structure; richer flavor when toasted; =>back
Chestnut Flour
MADE FROM: dried and roasted chestnuts; fruits of chestnut tree; belongs to beech family; widely cultivated in the Northern Hemisphere;

TASTE: nutty, hearty and slightly bitter taste; also slightly sweet flavor;

USED FOR BAKING: mostly for sweet baked goods like cakes, muffins, brownies and pancakes; can also be used for breads if blended with other gluten-free flours;

SPECIAL BAKING PROPERTIES: gives additional texture and contributes moisture to baked goods; => back
Coconut Flour
MADE FROM: ground and dried coconut meat (white part inside the coconut, separated from coconut's milk); coconuts are fruits of the coconut tree, a member of the palm family; coconuts are not truly nuts but stone fruits (drupes); cultivated in tropical countries, especially Asia (Indonesia, Philippines and India);
TASTE: slight and pleasant coconut flavor;
USED FOR BAKING: for sweet and savory baked goods such as breads, muffins, pancakes, waffles and cookies;
SPECIAL BAKING PROPERTIES: use in gluten-free flour mixes; up to 20 % of total flour; absorbs moisture very well (add more liquids as needed); tendency to make baked goods quite dense; => back
Hazelnut Flour/Meal
MADE FROM: fruits (nuts) of the hazel bush; belongs to the birch family; cultivated worldwide (especially in Turkey);
TASTE: very pleasant and intense, nutty aroma;
USED FOR BAKING: especially for sweet baked goods like cakes, muffins and cookies; but also for bread;
SPECIAL BAKING PROPERTIES: mix hazelnut flour or meal with other gluten-free flours; up to 10 % of total flour; nutty aroma intensifies during the baking process (flavor of toasted hazelnuts); => back
Pecan Flour/Meal
MADE FROM: fruits (pecans) from pecan tree; belongs to walnut family; pecan nuts are not truly nuts but stone fruits (drupes); cultivated in North America;
TASTE: rich and nutty flavor;
USED FOR BAKING: especially for sweet baked goods like cakes, pies, muffins and cookies;
SPECIAL BAKING PROPERTIES: mix pecan flour or meal with other gluten-free flours; => back
Walnut Flour/Meal
MADE FROM: raw or toasted fruits (seeds), with or without shells, of the walnut tree, member of the walnut family; not a true nut but seeds of stone fruits (drupes); cultivated mainly in China, Iran, U.S., Turkey and Mexico;
TASTE: pleasant nutty flavor;
USED FOR BAKING: especially for sweet baked goods such as pies, brownies, cakes, muffins or cookies;
SPECIAL BAKING PROPERTIES: use walnut flour or meal in gluten-free flour mixes; aromatic nutty flavor increases if toasted (instead of raw) walnuts are used for grinding; walnut flour needs to be stored in a dry and cool place as otherwise a fungal mold infestation might occur (produces aflatoxin, a potent carcinogen); => back
Other Dry Fruit Flours/Meals
Nut Flours vs Meals
Nut flours are ground from the cake that remains after oils are pressed from nuts (gives baked goods a finer texture; adds a rich flavor); nut meals are ground from whole nuts and therefore grittier and oilier than nut flours (make baked goods moister and give them a coarser texture); store nut flours/meals in refrigerator as they go stale quickly; => back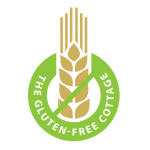 The Gluten-Free Cottage (GFC)
© 2016 GLUTENFREECOTTAGE.COM ALL RIGHTS RESERVED