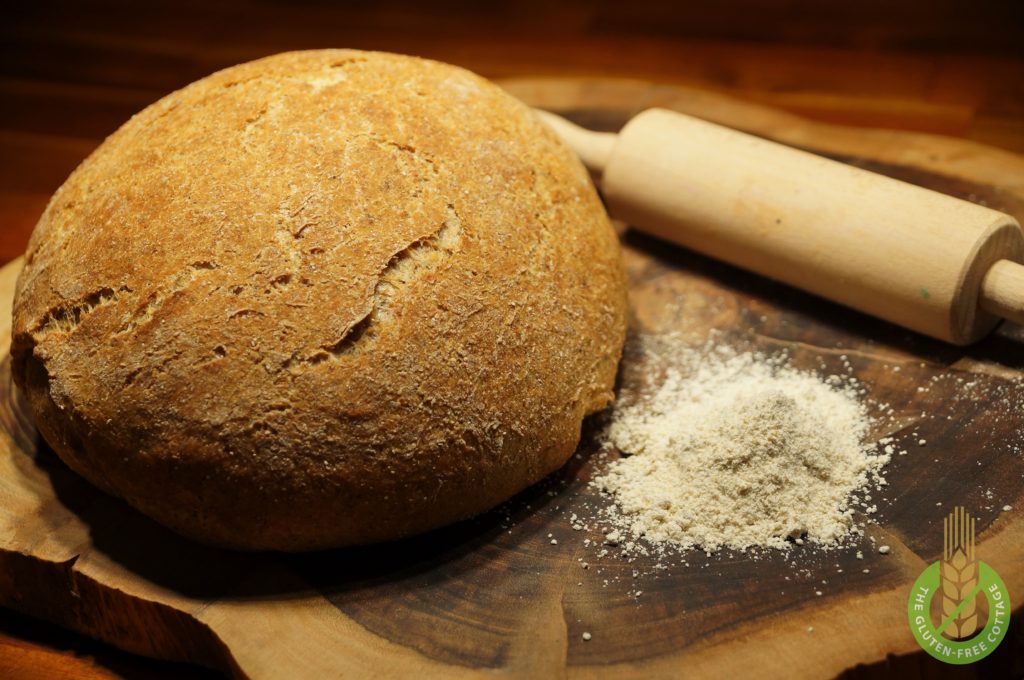 When thinking about our yummy brown bread back in Austria, my mouth immediately starts watering and I have the image of a crunchy and at the same time juicy bread in my head. Only that this bread contains plenty of wheat or rye flour and therefore is an absolute no-go for us gluten-free folk. After experimenting quite a while I succeded in developing a gluten-free brown bread recipe which very much resembles its Austrian original – and as my family would say, it tastes even better than that.
My Recipe:
Crunchy Gluten-Free Brown Bread
| Prep time: | Rise time: | Bake time: | Total time: | Yield: |
| --- | --- | --- | --- | --- |
| 15 mins | 1 hour 20 mins | 55 mins | 2 hours 30 mins | 20 slices |

INGREDIENTS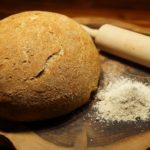 Dry Ingredients
200 g [≈ 2 cups] oat flour (certified gluten-free)
150 g [≈ 1-1/2 cups] brown rice flour
50 g [≈ 1/2 cup] quinoa flour
50 g [≈ 1/2 cup] corn starch
50 g [≈ 1/2 cup] tapioca starch
2 TBS. psyllium husk powder
2 tsp. locust bean gum powder (or xanthan gum powder)
2 1/2 tsp. salt
Liquid Ingredients
500 ml [≈ 2 cups] tab water, lukewarm
2 TBS. cold-pressed canola oil
1 TBS. apple cider vinegar
Yeast Ingredients
2 tsp. active dry yeast
1 tsp. granulated sugar
100 ml [≈ 1/2 cup] water, warm
You will also need a big enough "Dutch oven",

 

i.e. an enameled cast-iron cooking pot with approx. 6 liters [≈ 6 quarts] with a tight-fitting lid.
DIRECTIONS
Make dough: Mix all "dry" ingredients thoroughly in a large bowl (best use an electric mixer);
Put all "yeast" ingredients in a small cup, stir it thoroughly and let it rest for a couple of minutes at a warm place until you see small bubbles at the surface.
Then pour the "liquid" ingredients in an extra bowl and mix it.
Now add the "yeast" and "liquid" ingredients to the "dry" ingredients and let it mix for a couple of minutes, until the dough gets a bit less sticky (during mixing the psyllium powder takes some water out of the dough and gives it more "structure").
First rise: Place the bowl at a warm enough place (e.g. put it in a warm water bath), cover it with a plastic foil and a tea towel on top and let the dough rest for about 1 hour, until its size has approximately doubled.
Now scrape the sticky dough out of the bowl with a rubber spatula, put it on a surface covered with oat flour and knead it shortly with your hands. If necessary add some oat flour and continue kneading it until you can form a nice firm loaf.
Second rise: Let it rest for another 20 minutes at a warm place so that the raw bread loaf can rise again (by approx. one third in size). Sprinkle its surface with a little bit of flour and cover it with plastic foil and a tea towel on top.
In the meanwhile turn on the oven at a very high temperature (e.g. 270 °C/ 520 °F) and put the empty Dutch oven in it (don't forget the lid).
After about 20 minutes take the hot Dutch oven out of the oven, take the (hot!) lid off and place the raw bread loaf carefully inside the very hot Dutch oven (I mostly just let it drop inside). Now place the lid back and put it in the oven again.
Bake: Let the bread bake for about 30 minutes with the lid on, then take the lid off, decrease the oven temperature to 220 °C (430 °F) and let bake for another 25 minutes, until the crust gets nice and crunchy.
Now take the Dutch oven out of the oven, take the hot bread out and put it for another one to two hours on a baking rack to cool.
Enjoy your crunchy gluten-free brown bread!
Tips & Tricks
If you cover the dough with plastic foil and a tea towel on top you will help it rise much better. A rising yeast dough likes to have it warm and moist.

NOTES:

TBS. = tablespoon
tsp. = teaspoon
g = gram
ml = milliliter
1 cup = 1 cup [US] = 235 ml = 16 tablespoons (TBS)
1 liter = 1.0567  US quarts (liquid)
1 quart = 1 US quart (liquid) = approx. 0.946 liters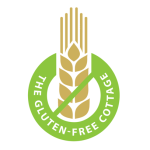 The Gluten-Free Cottage (GFC)
© 2017 GLUTENFREECOTTAGE.COM ALL RIGHTS RESERVED