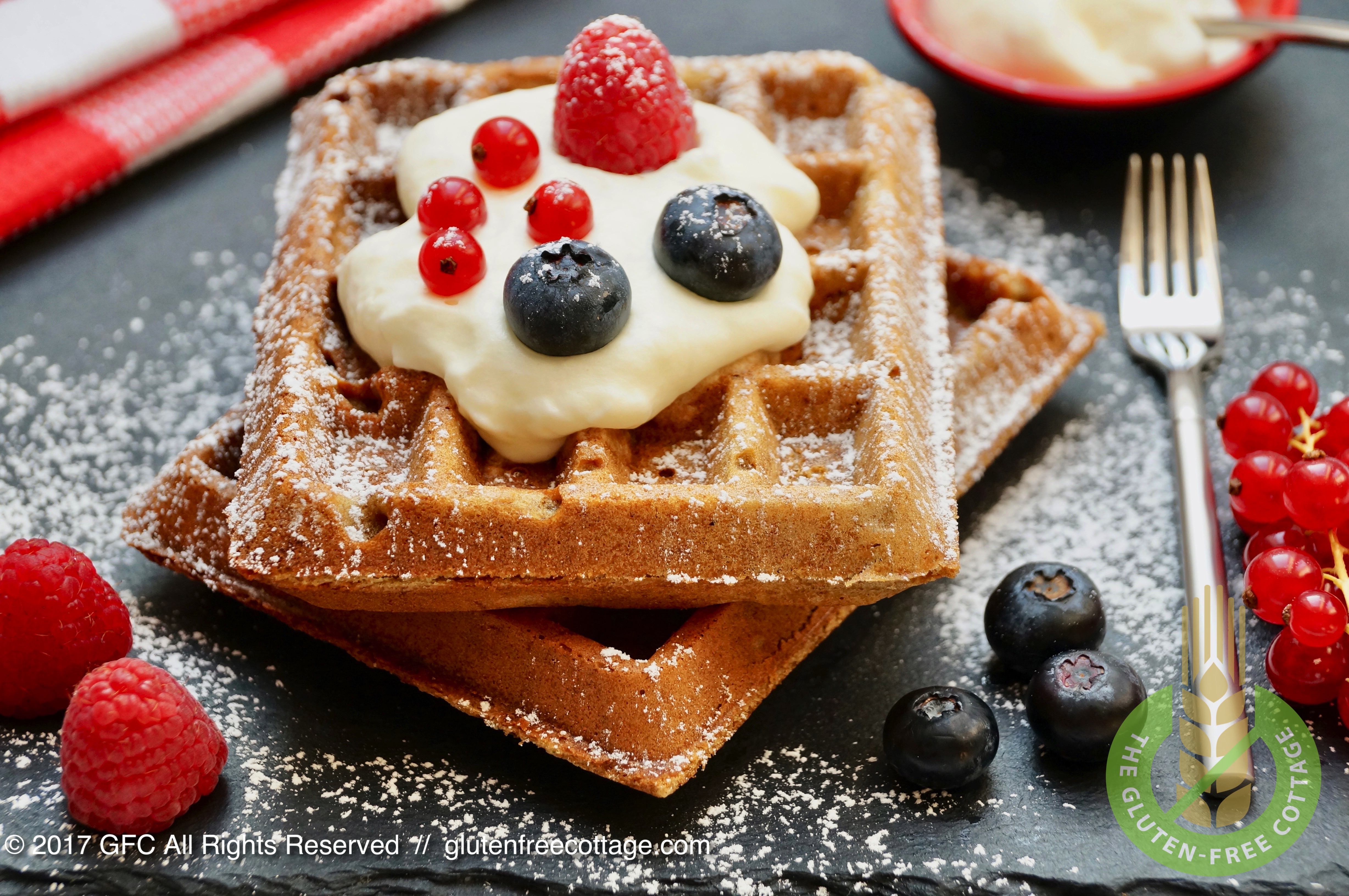 Crispy and tasty – that is how waffles should be. No problem if you use "normal" flour like wheat flour, for example, as it contains lots of gluten. But what about making tasty gluten-free waffles at home from scratch? Well, this means a little experimenting. Of course, you can take the easy way and just buy a gluten-free flour mix at the next supermarket. But to be honest, these gluten-free flour mixes mainly consist of rice flour. True, rice flour sticks quite well. But what about the taste? Rather boring, I would say.
A more interesting choice is buckwheat flour – provided you like the quite strong taste of buckwheat. I do like buckwheat flour but not everyone in my family does. So there is only one choice left, namely teff flour. Teff flour is a kind of millet flour and was originally cultivated in Africa only. It has a mild, nutty aroma and a slightly jelly-like consistency and is therefore great for gluten-free baking. Also, teff is a high-fiber and high-protein flour with plenty of iron and calcium as well as manganese which makes it a very healthy flour.
For that reason, and also because the gluten-free waffles are really quick and easy to make, I like to make them for my kids when they come home from school and need to have a quick snack. Add whipped cream and berries on top of your waffles (and optionally maple sirup or raspberry sauce) and your kids will love you for your wonderfully crisp and tasty gluten-free waffles!
For decent gluten-free waffles you need only a handful of ingredients. The main dry ingredient is teff flour. And you will also need baking powder, granulated brown sugar, vanilla sugar and salt. For dietary reasons, you can reduce the amount of brown sugar from 4 tablespoons to only 2 tablespoons, if you like. The waffles still taste good, but are less sweet, of course.
On the wet ingredient side, you will need milk, canola oil and eggs. Mostly, I use low-fat milk, but whole milk is fine, too, of course.
When all ingredients are measured accurately, place the dry ingredients in a big enough bowl and mix thoroughly. This is important as you want the baking powder to be spread evenly in the batter so that the waffles rise evenly.
Now pour milk and canola oil in a medium-sized jar, add the eggs and mix thoroughly. There are huge differences in the quality of canola oil. I  always make sure to use organic cold-pressed canola oil as it has high levels of vitamin E, a great omega-3 to omega-6 fatty acid ratio and absolutely no cholesterol, which makes it a healthy choice for cooking and baking.
When mixing the dry and wet ingredients, the resulting batter should show a rather thick and not too liquid consistency as otherwise the batter starts dripping along the sides of the waffle maker and the waffles end up being way too thin.
Letting the batter rest for a couple of minutes helps increase its thickness. Otherwise, add some milk if you think your batter is too thick.
When I pour the batter onto the hot lower plate of the waffle maker, I always let the waffle maker stay open for half a minute or so before closing it. This lets the waffles start baking at the bottom already and consequently prevents the batter from dripping down at the sides of the waffle maker when the upper lid comes down.
Now I let the waffles bake for about 15 minutes until golden brown, but the time really depends on the making of your waffle maker. Just be careful to not open the upper lid too early as this might cause your waffles to be torn apart in the middle.
I like to serve the gluten-free waffles with whipped cream and berries on top. Also, my kids often enjoy a glass of milk with their crispy waffles which makes their snack even more healthy.
Enjoy your wonderfully crisp and tasty gluten-free waffles with whipped cream and berries!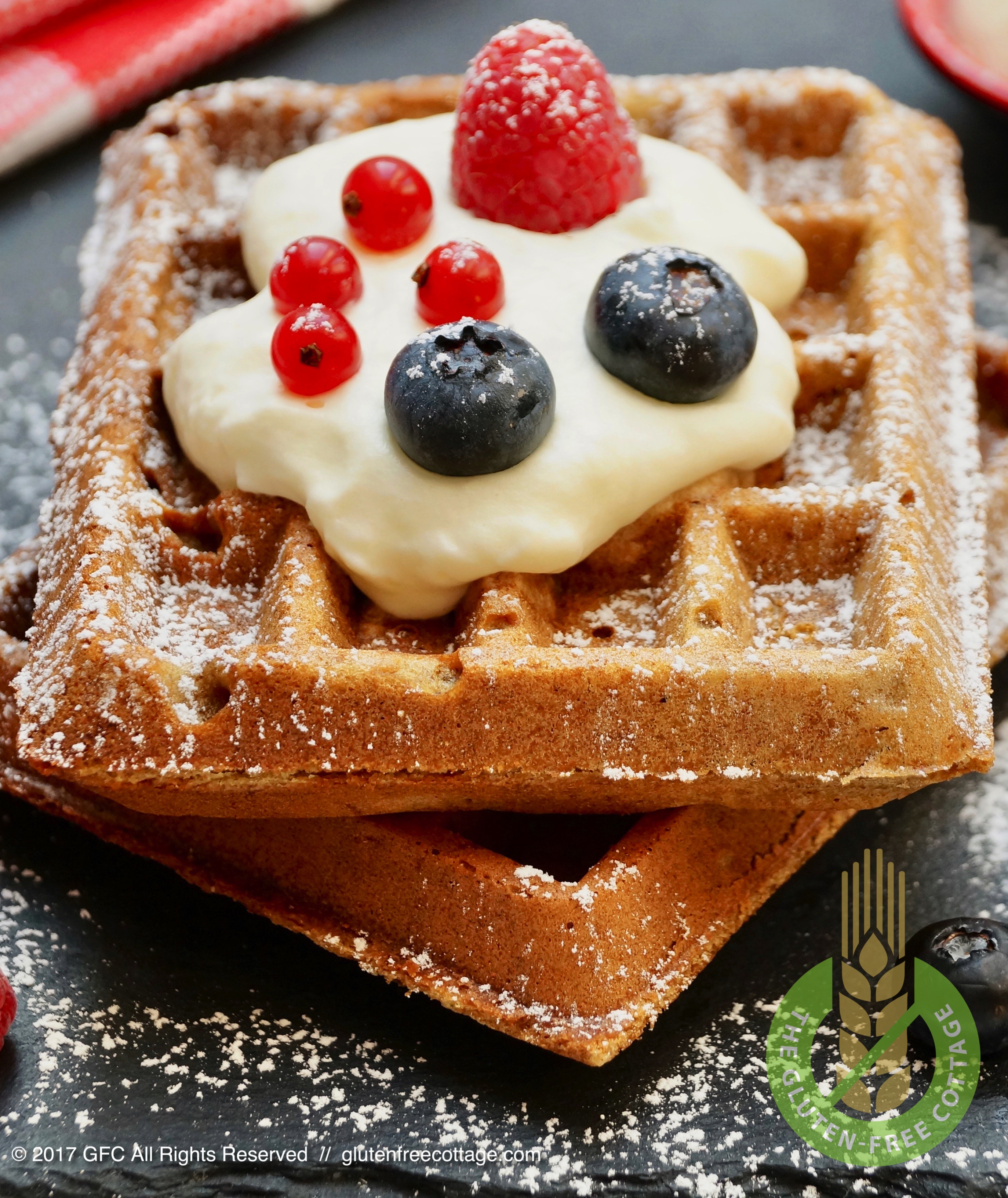 My Recipe:
Crispy & Tasty
Gluten-Free Waffles
| Prep time: | Bake time: | Total time: | Yield: |
| --- | --- | --- | --- |
| 5 mins | 15 mins | 20 mins | 8 waffles |

INGREDIENTS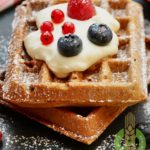 * GLUTEN-FREE BATTER:
Dry Ingredients
250 g [≈ 2 cups] teff flour
4 tsps. baking powder
4 TBS granulated brown sugar
2 tsps. vanilla sugar (or 1 tsp. vanilla extract)
1/4 tsp. salt
Wet Ingredients
3 medium eggs
500 ml [≈ 2 cups] milk

120 ml 

[≈ 1/2 cup] canola oil (or sunflower oil), preferably organic and cold-pressed
* TOPPING:
whipped cream
berries (raspberries, blueberries, red currant berries, blackberries, and the like)

confectioners' sugar

optionally: maple sirup or raspberry sauce

DIRECTIONS
Preheat waffle maker. 

Make batter: Mix all dry ingredients in a big bowl.
Place all wet ingredients in a jar and mix thoroughly.
Combine dry and wet ingredients.

Pour batter on preheated waffle maker and let bake for about half a minute before closing it (to prevent spilling).

Bake: Close waffle maker and let waffles bake for about 15 minutes until golden brown (depends on your waffle maker).  

Take waffles out of waffle maker and make next batch of waffles. 

Garnish waffles with whipped cream, berries and powdered sugar on top. Optionally serve with maple sirup or raspberry sauce.

Enjoy your very crispy and tasty gluten-free waffles!

Tips & Tricks:
Optionally you can use melted butter instead of cold-pressed canola oil. Melted butter gives a very nice taste but is less healthy, of course.

Conveniently, the batter can be stored in the fridge for a couple of days. You only need to cover the bowl with a lid.
If you made too many waffles, just heat them shortly in your toaster the next day and they will be crispy again.

NOTES:
g = gram
ml = millilitre
TBS = tablespoon = 15 ml
tsp. = teaspoon = 5 ml
1 cup = 1 cup [US] = 235 ml = 16 tablespoons (TBS)
1 inch (in or ") = 2.54 centimeters (cm) = 25.4 millimeters (mm)
1 liter = 1,000 ml = 1.0567  US quarts (liquid)
1 quart = 1 US quart (liquid) = approx. 0.946 liters