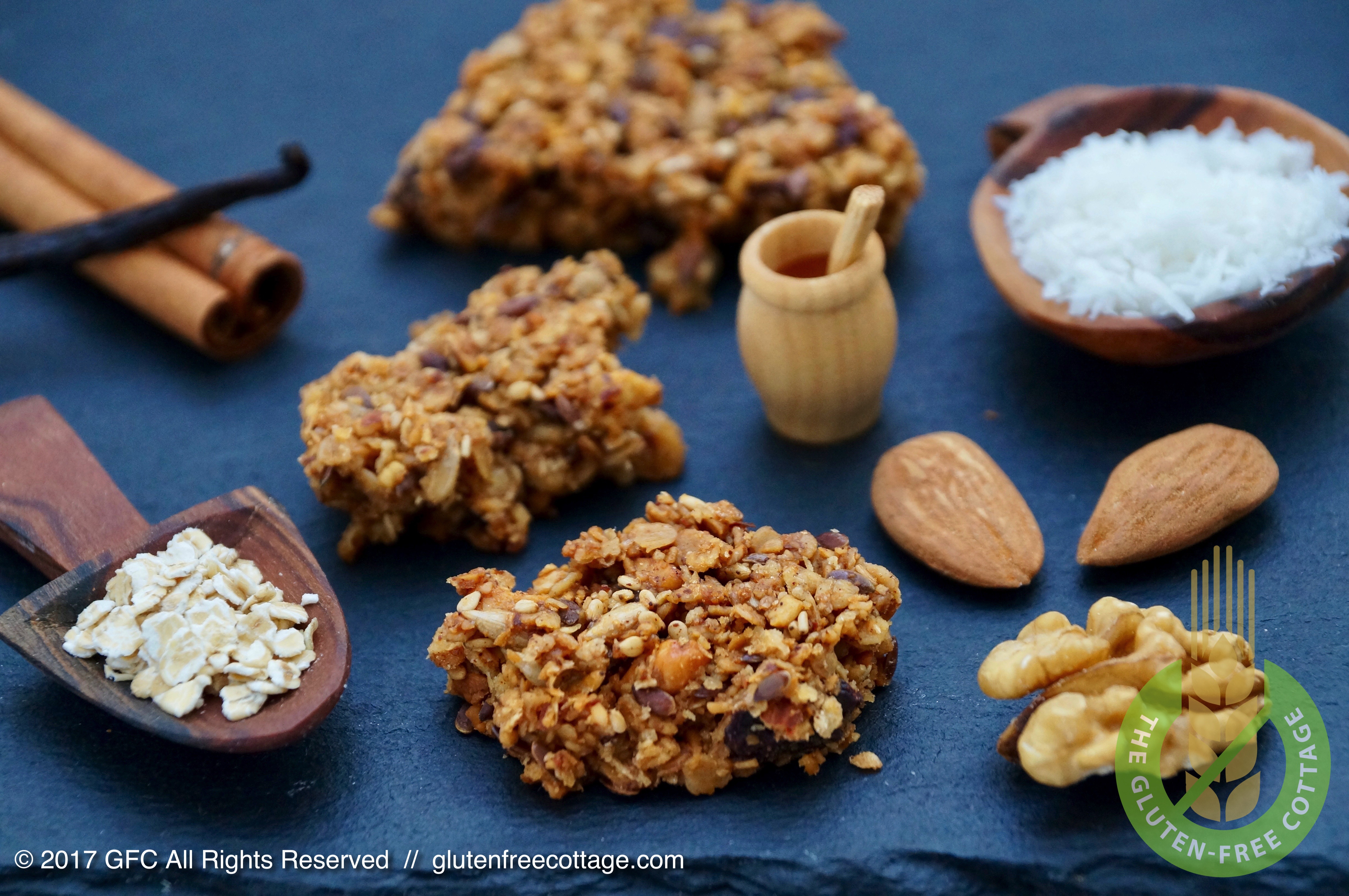 It has been quite a while since I made my last batch of very crunchy and tasty gluten-free granola cookies. This summer has been way too hot for baking them, especially here in Vienna, my hometown. We have just returned from living abroad for 11 years in total and the average temperature of our last destination, Denmark, was much lower compared to Austria.
But now, with autumn approaching, and roasted chestnuts being sold in basically every corner in Vienna, I felt tempted to bake once again gluten-free granola cookies for my kids. Most of the time, they are ravenous when coming home from school. So I am more than happy to provide them with a nutritious, super healthy and at the same time very delicious gluten-free granola snack.
The main ingredient of my gluten-free granola cookies are, of course, old-fashioned rolled oats. I always very carefully check the printing on the oat packages so that I do not accidentally buy rolled oats containing traces of gluten. This is quite common as oats – which originally do not contain gluten – are quite often being processed together with wheat or other gluten-containing cereals. And this unfortunately causes a cross-contamination with gluten.
Making granola cookies at home is a quick and easy process.The main work really is to chop all the nuts and the chocolate (in case you do not want to buy ready-made chocolate chips). Other than that, you only need to weigh the ingredients and mix them together.
The reason I am using not coarsely but finely chopped (or even ground) almonds is that the fine structure helps to make the granola dough less crumbly and therefore is better for making cookies (instead of loose granola crumbs).
In my opinion, these gluten-free granola cookies are one of the most healthy snacks around. There is plenty of vitamin B and other vitamins, minerals and trace elements in the granola ingredients (nuts, seeds, rolled oats, millet flakes, and coconut) and this helps them concentrating in school and at home when doing their homework. Even dark chocolate not only tastes yummy but is said to have a positive impact on your health. Therefore I am always encouraging my kids to eat as much granola cookies as possible at home and in school.
When preparing the wet ingredients, namely canola oil, honey and tap water, I always make sure that the water I am using is quite warm as this helps the honey to dissolve more easily.
Next, mix all dry and wet ingredients thoroughly until all parts of the dough are evenly moist. If you like, you can also add a few raisins and/or pumpkin seeds as this gives a very nice flavor. My kids, though, do not like to have raisins in baked goods, so my granola cookies usually have to do without.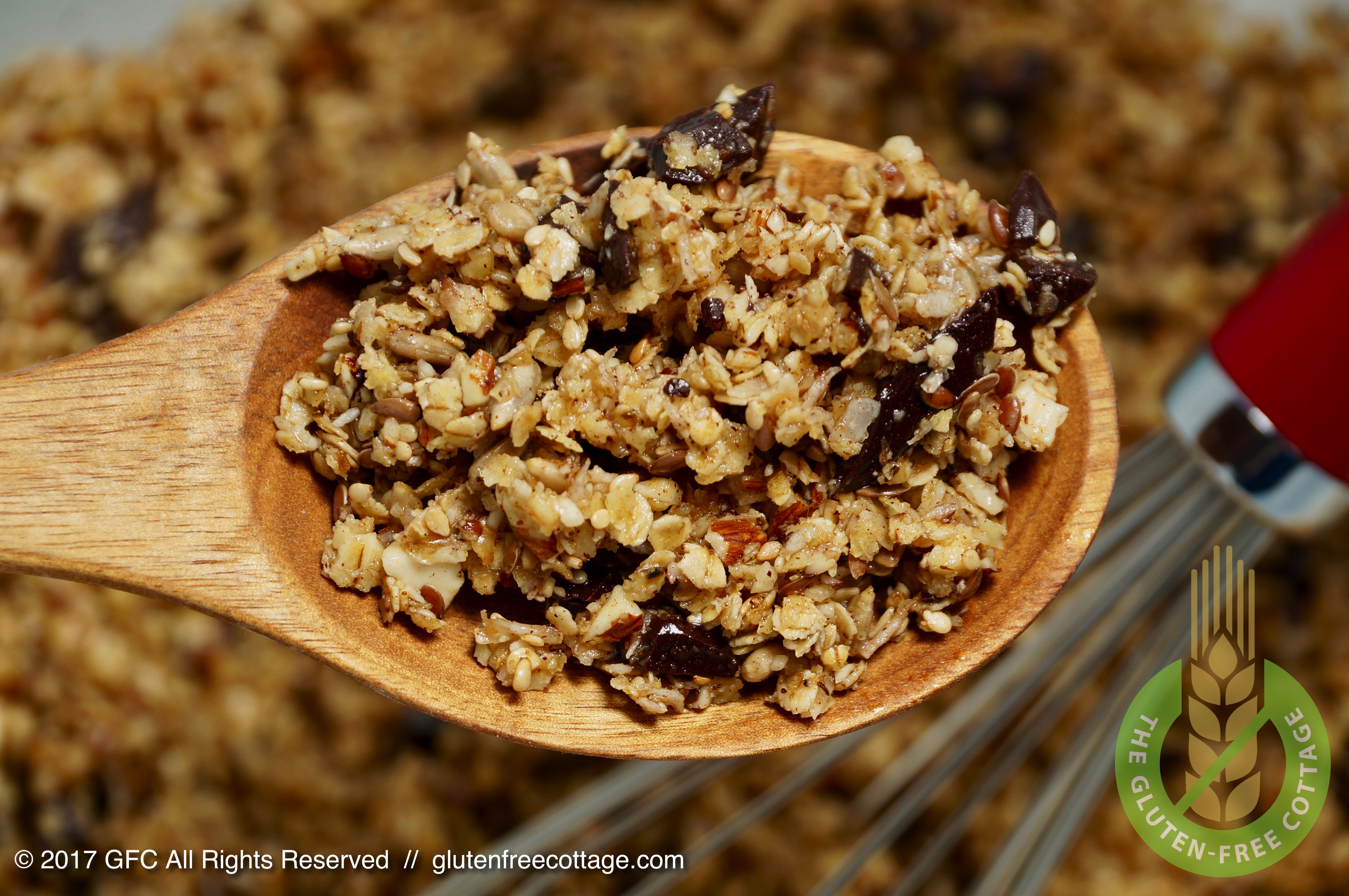 And that is basically it. My kids love to eat the still raw granola dough but I prefer for the granola cookies to be baked, of course. I just love the nutty taste of the granola cookies and the faint cinnamon smell in the air when baking them always reminds me of my childhood when my mother was baking tons of cookies around Christmas time.
Usually, I let the granola bake in the oven for 1 about hour until it has a nice brownish color and the air smells of roasted nuts. But this really depends on how thick the dough is, of course. You may want to add another 10 minutes or so if the dough is thicker than 1 cm (0.40 in.).
When the baked granola is ready, I take it out of the oven and let it cool for about 10 minutes. Then I break the granola into small pieces ("cookies") and serve them to my starving kids (or rather immediately start eating them myself…).
Enjoy your super healthy and very tasty gluten-free granola cookies!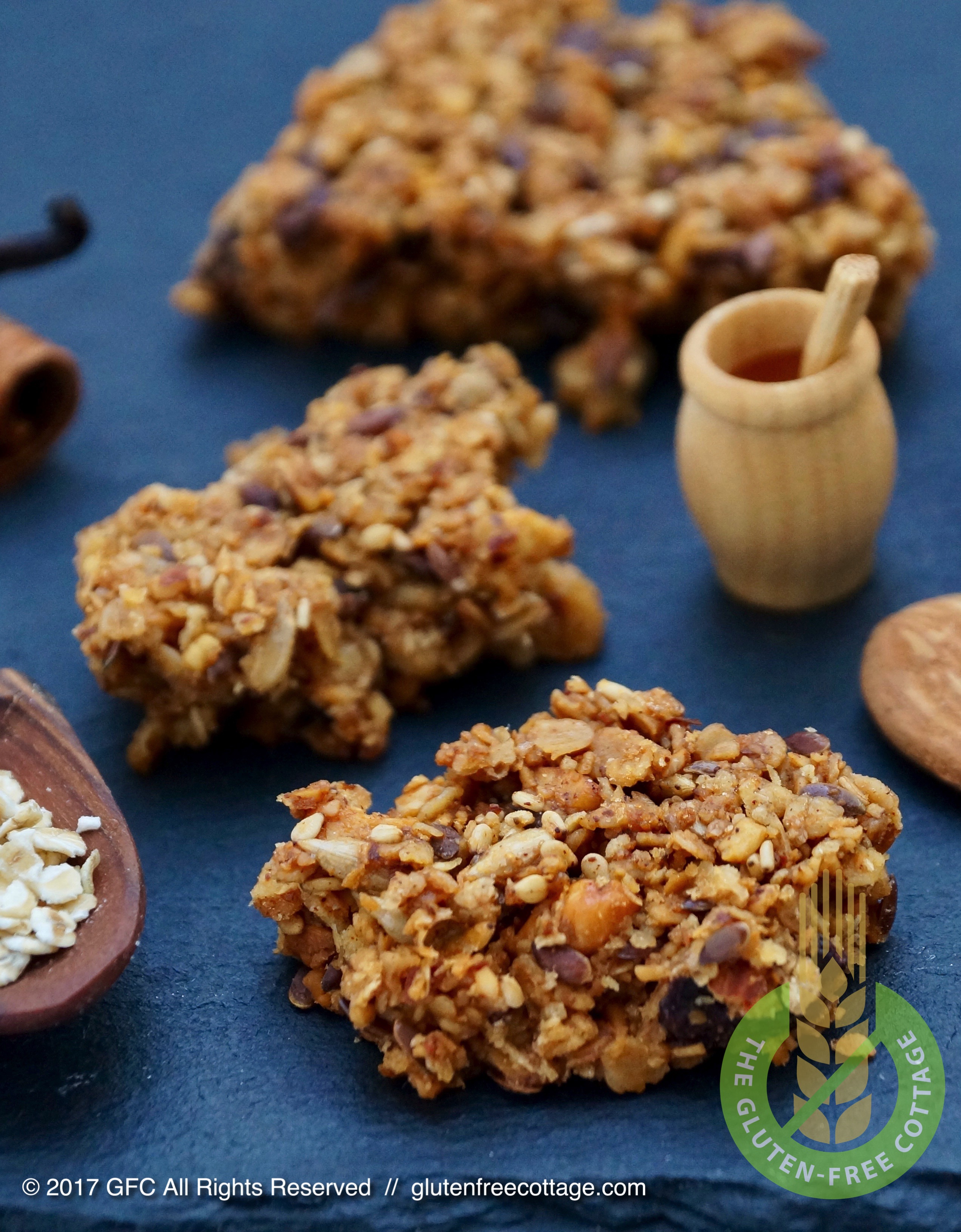 My Recipe:
Super Healthy Gluten-Free
Granola Cookies
| Prep time: | Bake time: | Total time: | Yield: |
| --- | --- | --- | --- |
| 15 mins | 1 hour | 1 hour 15 mins | 50 cookies |

INGREDIENTS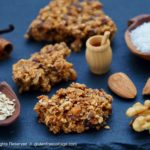 * GLUTEN-FREE DOUGH (half-size sheet pan: 42 cm x 35  cm / ≈ 18″ x 13″):
Dry Ingredients
200 g [≈ 2 cups] old-fashioned rolled oats (or oatmeal), gluten-free

100 g

[≈ 1 cup] millet flakes (or brown rice flakes or quinoa flakes)

70 g

[≈ 1/2 cup] sunflower seeds, de-hulled

50 g

[≈ 1/2 cup] walnuts, coarsely chopped (or pecans or cashews)

140 g

[≈ 1 cup] whole almonds, finely chopped or ground

40 g

[≈ 1/4 cup] sesame seeds

40 g

[≈ 1/4 cup] flax seeds

40 g

[≈ 1/2 cup] shredded coconut, unsweetened

100 g

[≈ 3/4 cup] semisweet chopped chocolate (or chocolate chips), gluten-free
2 TBS vanilla sugar (or 2 tsps. vanilla extract)
2 tsps. ground cinnamon
1/4 tsp. salt
Wet Ingredients
120 ml 

[≈ 1/2 cup]

honey

, preferably raw and cold-pressed

60 ml 

[≈ 1/4 cup] warm tap water

120 ml 

[≈ 1/2 cup] canola oil (or sunflower oil), preferably organic and cold-pressed

DIRECTIONS
Preheat oven to 150 °C (300 °F). Cover baking sheet pan with parchment paper.  

Make dough: Prepare and mix all dry ingredients in a big bowl. 
Place all wet ingredients in a smaller bowl and mix thoroughly.
Combine dry and wet ingredients.

Place dough approx. 1 cm (≈ 0.40 in.) high on rectangle half size sheet pan (42 cm x 35 cm / 18″ x 13″) and flatten with the palms of your hands.

Bake: Place baking sheet pan in the middle or lower part of the oven and bake for approx. 1 hour.
Let cool: Take granola out of the oven and let cool for about 10 minutes. 
Break granola in pieces ("cookies") and serve.

Enjoy your very tasty and super healthy gluten-free granola cookies!

Tips & Tricks:
Optionally add 1/2 cup of dried raisins.

You can also add a few pumpkin seeds as they develop a very nice taste during baking.
NOTES:
g = gram
ml = millilitre
TBS = tablespoon = 15 ml
tsp. = teaspoon = 5 ml
1 cup = 1 cup [US] = 235 ml = 16 tablespoons (TBS)
1 inch (in or ") = 2.54 centimeters (cm) = 25.4 millimeters (mm)
1 liter = 1,000 ml = 1.0567  US quarts (liquid)
1 quart = 1 US quart (liquid) = approx. 0.946 liters