Carnival Season & Jelly Doughnuts (Krapfen)
With carnival season approaching, who would not want to eat delicious jelly doughnuts (Krapfen)? In Austria, my home country, basically everybody does. Especially on Fat Tuesday. You can buy them everywhere. Especially in our capital Vienna, where they are said to originate from. In the morning, you would go to the bakery, grab plenty of Krapfen, and bring them to your office, for example, to share with your colleagues (who seem to turn into piranhas within seconds of your arrival). But what about gluten-free jelly doughnuts?
Gluten-Free Challenges
Yes, what about them? Well, so far I have never seen them in a bakery or elsewhere. So the only option for me was to try and develop my own gluten-free jelly doughnut recipe. Which did not seem such a big deal at the beginning. After all, I had plenty of experience with making doughnuts from my former  – gluten-filled – life. Or so I thought. But usually, you need extra gluten-strong flour for making nice (gluten-containing) doughnuts. Which, of course, does not work for its gluten-free version. So what to do?
I was trying all kinds of different gluten-free flour and starch mixtures. Nothing really worked. When using corn starch, the doughnuts got way too dry. The same happened with brown rice flour, where they additionally got some kind of "bread-feeling", which has nothing to do with the soft and juicy appearance of "normal" jelly doughnuts. Then, they did not rise properly. And when fried in the oil, they got way too dark, not to mention the white ring that usually shows around the middle of jelly doughnuts when using wheat flour.
Successful Development of a Gluten-Free Doughnut Recipe
Finally, after lots of trials I developed the following recipe for gluten-free jelly doughnuts, which are delicious and moist and crispy at the same time. I am thankful for the advice of a very nice and experienced traditional Austrian baker, who freely shared his professional experience with regards to baking doughnuts with "normal" gluten-containing flour (like, for example, adding baking powder).
First, prepare the "dry ingredients" mix. Looks like a lot of ingredients, sure, but the truth is, that you will need most of these gluten-free flours, starches and binding agents anyhow in your pantry if you seriously want to start gluten-free baking yourself. So in my opinion, it definitely is worth the investment.
Which brings me to the next step, the preparation of "wet ingredients" for the dough (yeast comes extra). You best start with heating up milk until warm and add butter (cut in pieces) to let melt. Then add lightly beaten whole eggs and yolks and rum, and that's it. In case you wonder, why I add 2 egg whites and rum: Not only do we love rum in Austria, but both – egg whites and rum -help keeping the doughnuts from getting too soggy when fried in oil. Which also helps your body shape, of course, I daresay.
Then we need yeast, for the dough to rise properly. Using active dry yeast there is usually is no need to prepare for a proof of the yeast (yeast reaction with sugar). But as yeast fungi develop much better in a separate surrounding with sugar and warm water, this separate step helps your dough rise much better.
Now you simply combine all ingredients, i.e. the dry, wet and yeast ingredients and mix it for about a minute or so until the dough gets less wet and more sticky. This is helped by psyllium seed husk powder which absorbs excess liquidity in the dough during mixing.
Next place the mixing bowl for about 20 minutes in a warm water bath and cover with a cloth to keep the warmth in the bowl.
After 20 minutes scrape the dough out of the bowl and place on a dry surface covered with pearl millet flour. Also place some flour on top of the dough before rolling it out to approx. 1 cm (1/2-in.) thick.
Then take a round cookie cutter of 7 cm (2-in.) diameter and cut out rounds.
Let the dough rounds rise for about 50 minutes at  warm enough place. I always place them on a fine-structured grid which I set on top of a big bowl filled with hot water. Then I cover the dough rounds with parchment paper, plastic foil and a cloth to keep them warm and moist during the second rising.
When the dough rounds have approx. doubled, remove cloth, foil and parchment paper and place them on a dry surface NOT covered with flour as flour would burn in the oil when frying. Let the dough rounds rest for about 5 to 10 minutes until the skin loses its softness and develops a somewhat dryer appearance (which makes it more resistant against the hot oil).
In the meantime, heat the coconut oil until it reaches the right temperature of 160 °C to 170 °C (≈ 320 °F to 340 °F). My preferred method is to simply take the stick of a wooden spoon and dip it into the hot oil. When I see bubbles forming around the wooden stick, the oil is ready. As it is important that the dough rounds can swim in the oil, the oil should be about 3 to 4 cm (≈ 1.5-in.) high.
Now it is time to fry the first batch of doughnuts. Place the doughnuts, one at a time, on a skimmer, with the "dry side" down (i.e. dipping into the oil) and let glide carefully into the oil. Fry side #1 for about 2 to 3 minutes, then turn and fry the other side (side #2) for 3 to 4 minutes. Now turn again and fry side #1 again for another minute. This is necessary as this side of the doughnut has the tendency to be the weaker side in terms of crispness and needs to be strengthened by a second short frying.
To get rid of excess fat wrap the fried doughnuts in paper towels. Let them a cool a little bit and inject apricot jelly from the side using an icing syringe. In Austria, we traditionally use apricot jam mixed with a few teaspoons of rums for our carnival jelly doughnuts ("Faschingskrapfen").
Finally, sprinkle with plenty of confectioners' sugar and enjoy your very tasty gluten-free jelly doughnut!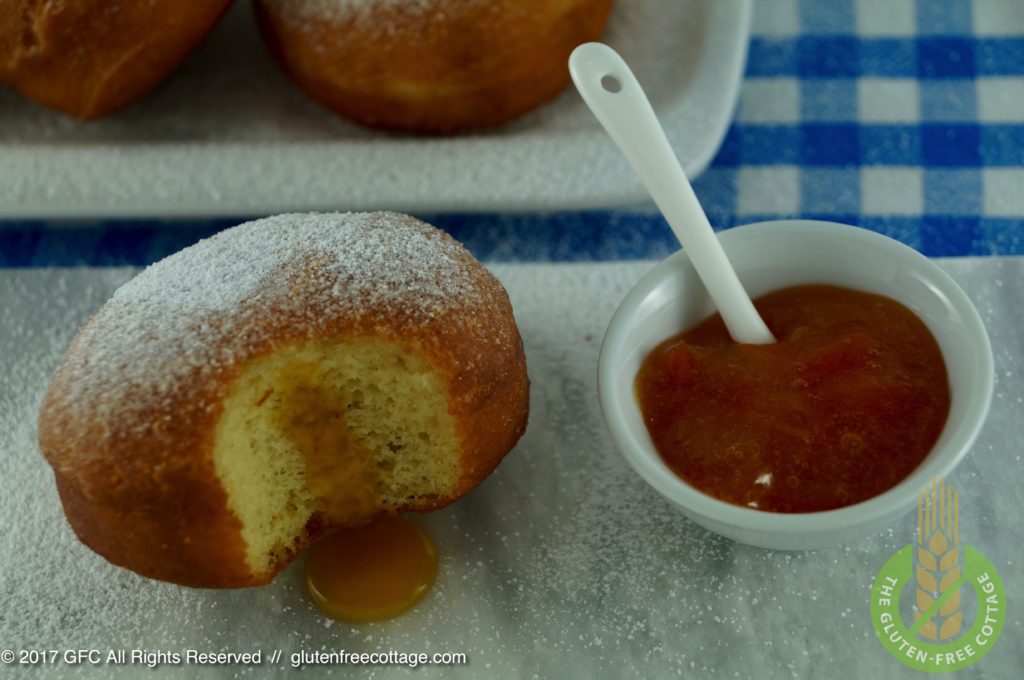 My Recipe:
Gluten-Free Jelly Doughnuts (Krapfen)
| Prep time: | Rise & Rest time: | Bake time: | Total time: | Yield: |
| --- | --- | --- | --- | --- |
|   30 mins |  1 hour 20 mins |  30 mins |  2 hours 20 mins |  20 pieces |
INGREDIENTS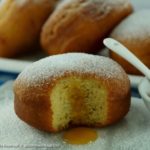 Dry Ingredients
150 g [≈ 1-1/2 cups plus 3 TBS] pearl millet flour
25 g [≈ 3 TBS] brown rice flour
25 g [≈ 3 TBS] white rice flour
150 g [≈ 1-1/3 cups] tapioca starch
150 g [≈ 1 cup plus 2 TBS] potato starch
2 TBS psyllium seed husk powder
2 tsp. locust bean gum powder (or xanthan gum powder)
2 tsp. baking powder
80 g [≈ 1/2 cup plus 2 TBS] confectioners' sugar
2 tsp. vanilla sugar
1 tsp. salt
1 organic lemon (freshly grated peel)
Wet Ingredients
1/4 l [≈ 1 cup plus 1 TBS] milk
80 g [≈ 6 TBS minus 1 tsp.] unsalted butter
4 eggs (2 whole eggs and 2 yolks) 

3 TBS rum
Yeast Ingredients
2 tsp. active dry yeast

1 tsp. granulated sugar

100 ml [≈ 1/2 cup] tab water, lukewarm
* Coconut oil for frying
* Apricot jelly for filling
* Confectioners' sugar to sprinkle
DIRECTIONS
Make gluten-free yeast dough: Place all "dry ingredients" in a big bowl and mix.

Prepare mix of "wet ingredients": Pour milk in a saucepan and heat until medium warm. Cut butter in pieces, add to warm milk and let melt. Lightly beat 2 whole eggs and 2 yolks and add together with rum to the milk-butter-liquid (rum helps keep the fat out of the dough when frying). Whisk.

Proof the yeast, i.e. provoke yeast-sugar reaction: mix all "yeast ingredients", put at a warm place and wait a few minutes until bubbles develop. 

Combine dry, wet and yeast ingredients and mix in an electric mixer for about one minute (until dough is more sticky but still soft).

First dough rise: Place dough bowl in a warm water bath for 20 minutes and cover with a cloth.

Take dough out of bowl and place on a dry surface covered with pearl millet flour. Also put some flour on top of the dough.

Roll out the dough with a rolling pin until approx. 1 cm (≈ 1/2-in.) thick. Take a cookie cutter and cut out rounds with a diameter of 7 cm (≈ 3-in.).

Second dough rise: Place dough rounds on a (grid), cover them with parchment paper and a foil (to keep the moisture) and put them at a warm enough place for 50 minutes until they have approx.

 

doubled in size.

Carefully take dough rounds and place on a (Brett). Let stand for about 5 to 10 minutes until the "skin" of the rounds gets a bit dry at the surface.

Heat coconut oil in a heavy pan (best use a cast iron pan) until between 160-170 °C (≈ 320-340 °F). The oil should be about 3 to 4 cm high (≈ 1.5-in.) so that the doughnuts can swim in the oil. Also, the pan should be wide enough so that the doughnuts can move around a little bit.

Deep-fry in oil: Place first batch of doughnuts (e.g. 5 doughnuts) upside down on a skimmer, so that the dry side will be in the oil first, and carefully let them glide into the hot oil. Cover the pan with a lid and let fry for 2-3 minutes. Remove the lid, turn doughnuts around and let the other side fry for 3-4 minutes, then turn again and let fry for another minute.

  

Take doughnuts out and wrap in paper towels so that excess fat can be absorbed. 

Repeat steps 11-12 

with rest of doughnuts.

Use an icing syringe to inject apricot jelly into the middle of the jelly doughnut and sprinkle with plenty of confectioners's sugar. 

Enjoy your very tasty gluten-free jelly doughnuts (or "Krapfen")!
Tips & Tricks:
Especially with gluten-free flours and starches it is recommended to additionally add a little bit of baking powder to help the dough rise better.

The more brown rice flour you add, the better the dough rises, but also the more bread-like the doughnuts taste. Therefore a mix between brown and white rice flour is best.

Yeast-sugar reaction: The yeast fungi can develop much better if you prepare a separate yeast-sugar reaction (compared to adding the active dry yeast directly into the mix "dry ingredients", which is, of course, also an option).

Egg whites and rum keep the jelly doughnuts from soaking to much  too oil when fried.

Heating of coconut oil: If you do not have a thermometer to check the temperature you can use the stick of a wooden spoon which you insert into the oil. The oil has the right temperature when it makes small bubbles around the stick.

Constantly watch the oil temperature to keep it at the same temperature as it may increase rapidly because of the lid cover. Also, the smaller the pan, the more difficult it is to keep the same temperature.
NOTES:
g = gram
ml = milliliter
TBS = tablespoon = 15 ml
tsp. = teaspoon = 5 ml
1 cup = 1 cup [US] = 235 ml = 16 tablespoons (TBS)
1 stick of butter = 1/2 cup = 113 g (= 4 oz. = 8 TBS. = 24 tsp.)
1 pound (lb.) = 0.454 kilograms (kg) = 454 grams (g)
1 ounce (oz.) = approx. 28 grams (g)
1 inch (in or ") = 2.54 centimeters (cm) = 25.4 millimeters (mm)
1 liter = 1,000 ml = 1.0567  US quarts (liquid)
1 quart = 1 US quart (liquid) = approx. 0.946 liters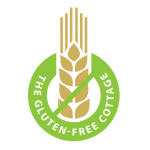 The Gluten-Free Cottage (GFC)
© 2017 GLUTENFREECOTTAGE.COM ALL RIGHTS RESERVED